~~May 2, 2014~~ 
André Léon Marie Nicolas Rieu (born 1 October 1949) is a Dutch violinist and conductor best known for creating the waltz-playing Johann Strauss Orchestra.
André Rieu and the Johann Strauss Orchestra have turned classical and waltz music into a worldwide concert touring music act, as successful as some of the biggest global pop and rock music acts.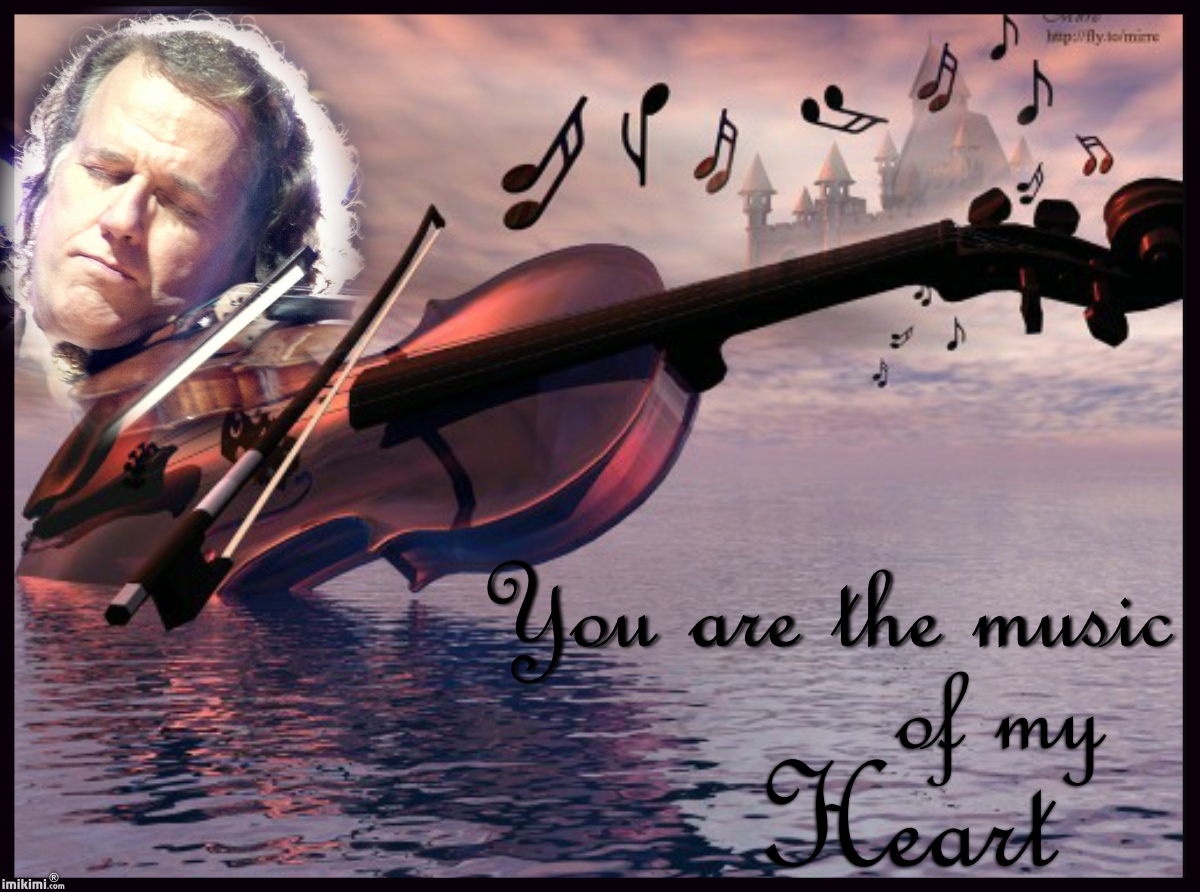 ~~Early life and studies~~
The name Rieu is of French Huguenot origin. He began studying violin at the age of five. His father, of the same name, was conductor of the Maastricht Symphony Orchestra. From a very young age he developed a fascination with orchestra. He studied violin at the Conservatoire Royal in Liège and at the Conservatorium Maastricht, (1968–1973). His teachers included Jo Juda and Herman Krebbers.
From 1974 to 1977, he attended the Music Academy in Brussels, studying with André Gertler, finally receiving his degree "Premier Prix" from the Royal Conservatory of Brussels.
~~Career~~
At University he performed the Gold And Silver Waltz by Franz Lehár. Encouraged by the audience reaction he decided to pursue the waltz form. Rieu formed the Maastricht Salon Orchestra and performed as a violinist with the Limburg Symphony Orchestra. In 1987, he created the Johann Strauss Orchestra and his own production company. Since then, his melodramatic stage performances and rock-star demeanor have for some been associated with a revival of the waltz music category.
André Rieu plays a 1667 Stradivarius violin.
In September 2007 Rieu performed in Australia for the first time solo, without his Orchestra at the Sandringham Hotel, in the Melbourne bayside suburb of Sandringham playing "My Way" and "Waltzing Matilda" — and the next day appeared at Sydney's Arena Cove, Warringah Mall Shopping Centre with the same set. In April 2009, he made a cameo appearance as himself on "Ramsay Street" in the long-running Australian soap opera Neighbours.
In April 2013 Rieu and his Johann Strauss Orchestra performed an open-air Coronation Concert in Amsterdam on the Museumplein.
In 2013, Rieu released a CD entitled "Music of the night".
~~Johann Strauss Orchestra

~~
The Orchestra began in 1987 with 12 members and the first concert was given on 1 January 1988. It now performs with between 80 and 150 musicians. At the time the Orchestra first toured Europe, a renewed interest in waltz music emerged in the continent. The revival began in the Netherlands and was ignited by their recording of the Second Waltz from Shostakovich's Suite for Variety Orchestra. As a result, Rieu became known as "the waltz King".
Rieu and his orchestra have performed throughout Europe, North and South America, and Japan. Winning a number of awards including two World Music Awards, their recordings have gone gold and platinum in many countries, including 8-times Platinum in the Netherlands.
He records both DVD and CD repertoire at his own recording studios in Maastricht in a wide range of classical music as well as popular and folk music, plus music from well-known soundtracks and musical theatre. His lively orchestral presentations, in tandem with marketing, have attracted worldwide audiences to this subgenre of classical music.
In recent years André Rieu and the Johann Strauss Orchestra have taken classical and waltz music on worldwide concert tours, the size and revenue of which are otherwise only seen from pop and rock music acts. In 2008 Rieu's extravagant tour featured a full size reproduction of Empress Sisi's Castle, the biggest stage ever to go on tour at that time. During the first half of 2009, André Rieu was the world's most successful male touring artist, according to Billboard magazine.
~~SOURCES~~
Official Website: http://www.andrerieu.com
http://en.wikipedia.org/wiki/Andr%C3%A9_Rieuhttp://www.reshareworthy.com/andre-rieu-amazing-grace-bagpipes/#W1HcLYV2CbH3YhkT.99
http://blogs.buffalonews.com/gusto/2011/11/12-things-about-andre-rieu.html
~~Andre Rieu Amazing Grace~~
~~Uploaded on Mar 15, 2011~~
This is spectacular, both in sight and sound.
This is Andre Rieu's breathtaking performance of Amazing Grace, after a wonderful start of bagpipes and drums. It's not surprising to see the emotional response from people in the audience, with tears flowing from their eyes.
We ALL are connected through MUSIC!! 
Read more at http://www.reshareworthy.com/andre-rieu-amazing-grace-bagpipes/#W1HcLYV2CbH3YhkT.99
We ALL are ONE!!