This is excellent!!! Yes, let's go back in time, undo progress, ignore social welfare. WTH …. it's only the law & the effect on people! Who cares? Grrr ….
The Fifth Column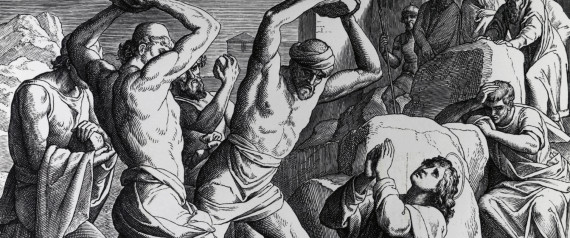 STONING |SuperStock via Getty Images
Just sayin'…
The owners of a chain of stores called Hobby Lobby don't like Obamacare. In particular, they really don't like the part that requires insurance companies to cover contraceptives. Normally, people who don't like a law petition the government to change that law. That's how a nation of laws works.
But these men are Christians. The Supreme Court ruled Monday that Christian business owners are special. Their deeply held religious belief that some particular form of contraception is immoral carries more weight than the force of law, five conservative Christian justices ruled. The court — in a fairly bald admission that its ruling is incoherent — added that no general amnesty from other laws should be assumed to be the result of its ruling and that its reasoning was strictly limited to women's contraception. Such a limitation raises legitimate questions about…
View original post 493 more words