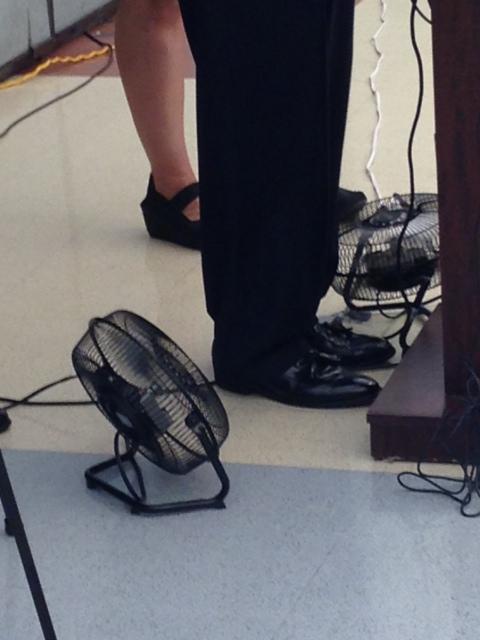 ~~October 16, 2014~~
SCOTT, CRIST AND A FAN
I'm a resident of the state of Florida since 1999. I must confess that I'm not involved with local politics except for the fact that I vote in the local elections. 
I'm not a faithful follower and I don't have the all the facts. My knowledge is superficial …. and I prefer that it stays that way. Political parties aside, the rumors as the current Governor Rick Scott was involved in a case of fraud and during an investigation/grand jury or whatever legal proceeding it was, he invoked the 5th amendment 75 times. 
The previous governor was Charlie Crist, the current opposition candidate. However, when Mr. Crist was governor of Florida, he was a member of the Republican Party. I'm not informed about the details of why he "converted" but currently he's running as a candidate for the Democratic Party. 
My current belief is that neither one of them is worth our real support and backing. However, one must be definitely voted out.
~~ I ALREADY VOTED~~
~Rick Scott refused to take the debate stage because Charlie Crist had a fan~
Washington (CNN) — Florida Gov. Rick Scott refused to go onstage for the first seven minutes of a debate Thursday night, October 14, 2014, because his opponent had a fan.
No, not a rowdy supporter in the audience. An actual electric fan.
Scott's Democratic challenger, former Gov. Charlie Crist, had set up a small fan underneath his podium, apparently trying to keep himself from sweating under the Broward College stage's lights. Scott saw the fan, a prop that often accompanies Crist at public appearances, as a violation of the debate's rules and said he wouldn't participate.
The moderators tried to explain the disagreement while Republicans in the audience chided Crist for breaking rules — at least as Scott saw them — against props on stage.
"We have an extremely peculiar situation right now," moderator Elliott Rodriguez, a local news anchor, said as the broadcast started.
"Are we really going to debate a fan?" Crist said while standing alone on stage.
Several minutes later, Scott relented and joined the debate.
"That has to be the most unique beginning to any debate," Rodriguez said as Scott walked onto the stage.
From there, the moderators largely tried to ignore the episode.
But it had already sparked a social media firestorm, with Twitter users launching the hashtag "#fangate," and a mock Twitter handle devoted solely to Crist's fan — @CCristFan — had its moment in the sun.
Fangate was all some people could think about.
"As it appears in …. "
http://www.cnn.com/2014/10/15/politics/florida-debate-fangate/index.html?hpt=po_c2
~~GALLERY~~
This slideshow requires JavaScript.
~Rick Scott Refuses to Debate Charlie Crist over Small Fan~
~Published on Oct 15, 2014~
Florida Gov. Rick Scott delayed the start of a debate because of an electric fan below Democratic challenger Charlie Crist's podium. Crist was alone on the stage for about five minutes before the debate Wednesday, October 15, 2014, night at Broward College due to a perceived violation by Scott against the use of electronic devices.
"Are we really going to debate a fan?" Crist said, standing alone at the podiums set up for two candidates. The former governor is known for bringing a portable electronic fan for interviews, speeches and other public appearances.
"This is remarkable over a trivial issue no matter which side you're on," said Frank Denton, editor of the Florida Times-Union, one of the debate monitors.
After about seven minutes, Gov. Scott took the stage and the debate began.
"I won't debate without my fan."
"I won't debate with your fan." 
We ALL are ONE!!