….. at last we see some backbone!! #HandsUp #DontShoot #BlackLivesMatter
GOOD BLACK NEWS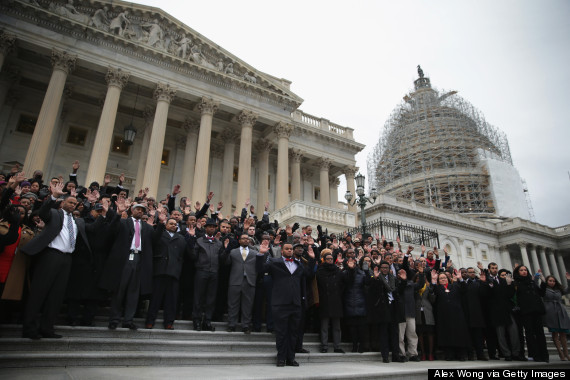 WASHINGTON — Dozens of congressional staffers walked out of their offices Thursday afternoon to show solidarity with demonstrators who are protesting the decisions not to indict police officers who killed Eric Garner in New York and Michael Brown in Ferguson, Missouri.
Just after 3:30 p.m., the staffers stood on the steps of the U.S. Capitol with their hands raised in the "hands up, don't shoot" gesture. In interviews, the staffers said they felt the need to express their support for demonstrators calling for police accountability for officers who take the lives of unarmed black men and women.
"We're coming out here to let them know, no, it's not business as usual, our lives matter, we're asserting our humanity and our dignity," one congressional staffer told The Huffington Post.
"Even though we go to work in these prestigious buildings among prestigious people, we go home and we're still profiled, we still…
View original post 217 more words