The third one in the same area/state! SMH …..
The Fifth Column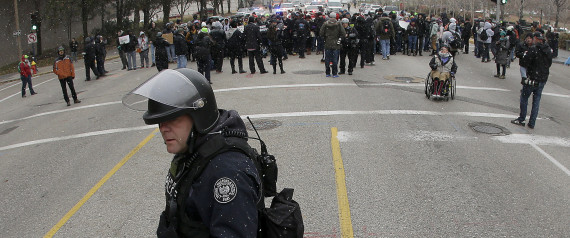 Protesters confront a police officer as they try to block a intersection in downtown St. Louis Wednesday, Nov. 26, 2014, in St. Louis. Missouri's governor ordered hundreds more state militia into Ferguson on Tuesday, after a night of protests and rioting over a grand jury's decision not to indict police officer Darren Wilson in the fatal shooting of Michael Brown, a case that has inflamed racial tensions in the U.S. (AP Photo/Charlie Riedel) | ASSOCIATED PRESS
ST. LOUIS (AP) — The shooting death of 18-year-old Antonio Martin marks the third fatal shooting of a young black man by a white police officer in the St. Louis area since Michael Brown was killed in August.
Here's a glance at the circumstances in each case:
___
MICHAEL BROWN
Michael Brown, an unarmed 18-year-old, was shot and killed shortly after noon Aug. 9 following an apparent scuffle in the middle…
View original post 523 more words