…. this isn't taught in schools!! We have to find on our own, researching … and thanks to those who investigate!!
Nappy Newz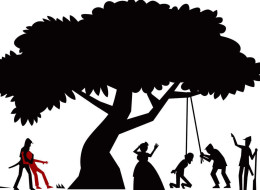 ATLANTA, Feb 10 (Reuters) – Lynchings in which mobs raided jailhouses to hang, torture and burn alive black men, sometimes leading to public executions in courthouse squares, occurred more often in the U.S. South than was previously known, according to a report released on Tuesday.
The slightest transgression could spur violence, the Equal Justice Initiative found, as it documented 3,959 victims of lynching in a dozen Southern states.
The group said it found 700 more lynchings of black people in the region than had been previously reported. The research took five years and covered 1877 to 1950, the period from the end of post-Civil War Reconstruction to the years immediately following World War Two.
The report cited a 1940 incident in which Jesse Thornton was lynched in Alabama for not saying "Mister" as he talked to a white police officer.
In 1916, men lynched Jeff Brown for accidentally bumping into…
View original post 256 more words