~~May 2, 2014~~
The Piano Guys are an American musical group consisting of Jon Schmidt, Steven Sharp Nelson, Paul Anderson, and Al van der Beek.
They gained popularity through YouTube, where they posted piano and cello renditions of popular songs and classical music. Schmidt and Nelson's music is accompanied by professional-quality videos shot and edited by Paul Anderson. 
Paul Anderson owned a piano shop in St. George, Utah. He met musician Jon Schmidt as the latter walked in to ask if he could practice there for an upcoming concert. Months later, Paul Anderson and Tel Stewart (then just for fun) started making videos together with Jon Schmidt. It was not too long after that they did their first collaboration with Jon Schmidt, Steven Sharp Nelson, and Al Van Der Beek as the studio and music technician. After the five of them started collaborating the group really started to take off, producing a music video each week and posting it to YouTube.
~~Success~~
Several of the group's YouTube videos have over 20 million views, while all of them have over 750,000. As of February 2014, The Piano Guys' YouTube channel has over 345 million total video views and about 2,500,000 subscribers.
"OUR VISION IS TO CREATE MUSIC AND VIDEOS THAT INSPIRE & UPLIFT.
WHATEVER WE DO, WE PUT OUR HEART AND SOULS INTO EVERY NOTE AND FRAME."
The Piano Guys 2 is the third studio album by American musical group The Piano Guys. It was released on May 7, 2013, by Portrait (a division of Sony Masterworks). The album made its chart début at number 38 on the US Billboard 200.
The deluxe version of The Piano Guys 2 comes with a DVD featuring 11 music videos.
Today we are featuring "Just the Way You Are" from their second CD with a major record label.
~~SOURCES~~
http://en.wikipedia.org/wiki/The_Piano_Guys
https://www.facebook.com/PianoGuys
http://www.huffingtonpost.com/tag/the-piano-guys
http://floridatheatre.com/event/piano-guys/
Jon Schmidt (born 1966) is an American pianist currently residing in Bountiful, Utah. He describes his style as "New Age Classical." He was born to German immigrants who acquainted him with the works of such composers as Beethoven, Mozart, and Chopin. He began songwriting at age 11. To date, he has released eight albums and seven piano books containing transcriptions of original arrangements.
His work is often described as New Age music with pop elements of hook and melody. His works were also featured on sample discs for the Iomega Hipzip Digital Audio Player with the pieces "Sacred Ground", "All of Me", and "Waterfall". 
His influences include Mannheim Steamroller, Billy Joel, and Beethoven.
Steven Sharp Nelson (born 1977) is a pioneer in "cello-percussion"—an alternative performance method that combines traditional, lyrical cello techniques with unconventional pizzicato and percussive technique. He was born and still resides in Salt Lake City, Utah. He began studying cello at age 8, percussion at age 12 and guitar at age 17. He has invented a new method of playing the cello that combines elements learned from each of these instruments.
He has studied the cello (still his primary instrument) under Ryan Selberg, Stephen Emerson, and John Eckstein. He obtained a degree in music from the University of Utah School of Music, graduating in 2002.
Nelson's true cello career began when he was 15. He was recruited by Peter Breinholt to arrange string parts and perform with Breinholt's band, Big Parade. Since then he has recorded on over 100 different albums ranging from folk & bluegrass to hip hop. He has also made his way as a solo artist. His first album Sacred Cello (2006) was atop the Billboard Charts. He has since two more solo albums that have also received significant acclaim (Tender Mercies, 2008 and Christmas Cello, 2010).
~~Just the Way You Are – Bruno Mars (Piano/Cello Cover)~~
ThePianoGuys   
~~Uploaded on Jan 27, 2012~~
~~Story behind the song~~
As always our subscribers give us the best song suggestions.
We think "Just the Way You Are" is one of those melodies that only comes along every once in a while. The word 'love' is tossed around a lot today. This arrangement goes out to anyone that feels something so deeply for someone that words can't even begin to describe. Jon says, "I tried to represent the song lyrics which match how I feel about my wife to a tee. The way I feel about her affected the musical arrangement big time. It shows that 'amazing' girl how I feel about her (after 20 plus years of marriage.)"
We hope everyone can relate. We hope everyone hears the very deepest side of what they feel for someone when they listen to this song.
Funny moments to look for:
Jon's death bed, pause at 04:00
Arrangement produced by Jon Schmidt
Arrangement written by Jon Schmidt, Steven Sharp Nelson & Al van der Beek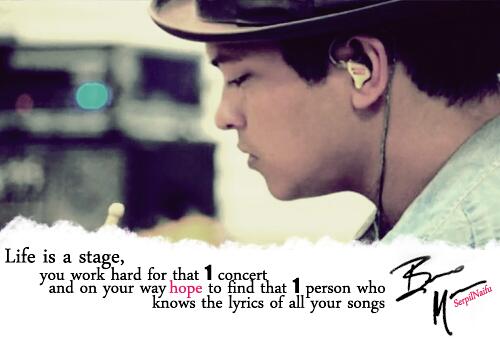 ~~Bruno Mars – Just The Way You Are~~
[OFFICIAL VIDEO]   
~~Uploaded on Sep 8, 2010~~
"When I see your face, there's not a thing that I would change
Cause you're amazing, just the way you are
And when you smile, the whole world stops and stares for a while
Because girl you're amazing, just the way you are
The way you are, the way you are
Girl you're amazing, just the way you are"
We ALL are ONE!!