Violence, violence!! War doesn't solve anything!!!
The Fifth Column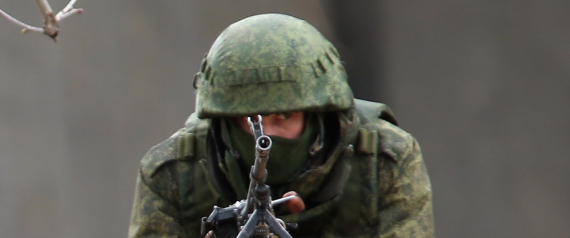 A soldier without identifying insignia mans a machine gun outside the Crimean parliament building shortly after several dozen soldiers took up positions there on March 1, 2014 in Simferopol, Ukraine. | Sean Gallup via Getty Images
Russia's parliament granted President Vladimir Putin permission to use the country's military in Ukraine and also recommended Saturday that Moscow's ambassador be recalled from Washington over comments made by President Barack Obama.
The unanimous vote in an emergency session formalized what Ukrainian officials described as an invasion of Russian troops in the strategic region of Crimea. With pro-Russian protests breaking out in other parts of Ukraine, Moscow now could send its military elsewhere in Ukraine.
"I'm submitting a request for using the armed forces of the Russian Federation on the territory of Ukraine pending the normalization of the socio-political situation in that country," Putin said before the vote.
Putin's call came…
View original post 348 more words